Testing Accessible Signage Standards

"Advancing Communication through Signage and Wayfinding": A partnership project
PEACH Research Unit and eyecandy SIGNS INC. of Halifax, Nova Scotia, have teamed up to perform this experiment testing accessible signage standards in real spaces to collect users' experiences of different signage types and designs. We will be conducting an onsite survey with individuals with and without disabilities. The survey asks for your feedback on the effectiveness of the signs that we have created based on accessible design standards and your experience using the signs. This study will be ongoing throughout the summer of 2022 in various locations in Downtown Halifax.
A list of locations where signage testing will be taking place is below. The survey is available in paper and digital format when research assistants are present onsite. Questions include how comfortably you may reach signs with tactile elements, how easily you may read signs from a distance, or which signs display braille in the most useful way. Anyone 18 years of age or older is eligible to take this survey. People under 18 are not eligible to submit a survey but are encouraged to interact with the signs! Please review a copy of the consent document (at the bottom of this page) before participating.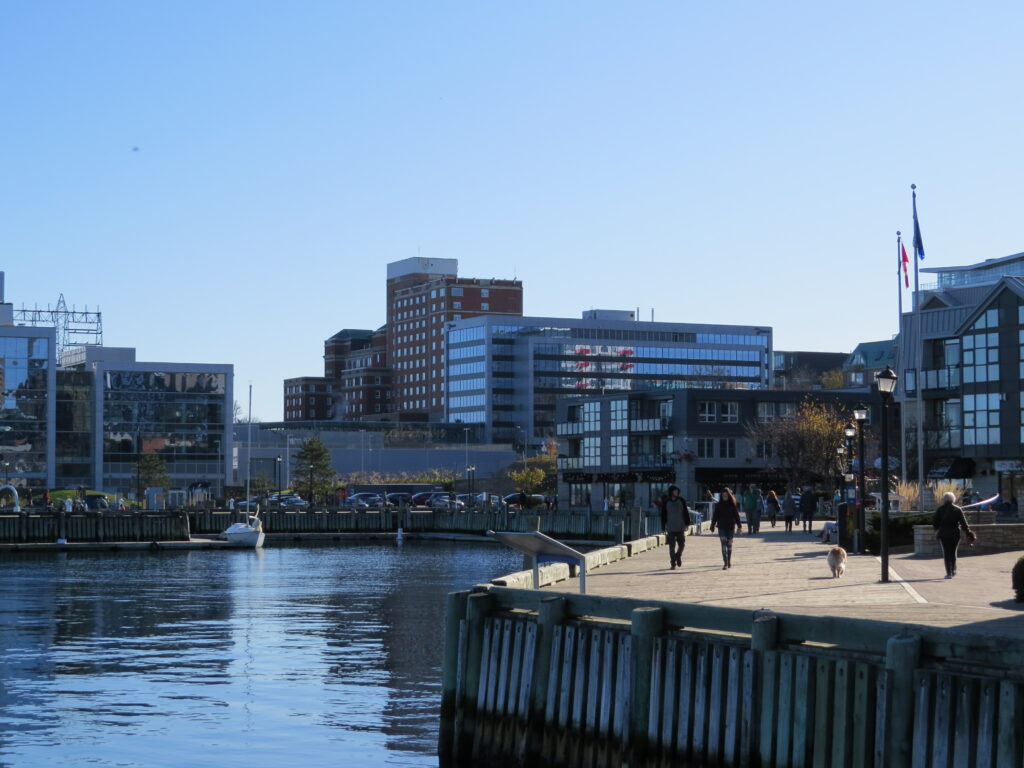 Halifax Waterfront
August 5 – 13
Starting on Friday, August 5, until Saturday, August 13, prototype signs will be installed on a portion of the Halifax Waterfront and PEACH team members will be onsite to engage with visitors about the signs' legibility and usefulness.
Whether it is your first time testing signage with us, or you already answered a survey at one of our previous locations (listed below), we invite you to visit this waterfront lab to test a whole new set of signs!
Where is the signage testing location?
Signs will be beside the New Scotland Clothing Company of the Salt Yard.
The Salt Yard contains vendor huts, public washrooms, and the waterfront beer garden.
From Lower Water St. the Salt Yard is most directly accessed from Salter St. Bus routes that stop along Lower Water St. include Bus 29 and 90.
When will researchers be onsite?
Monday through Friday, 11 am – 3 pm,
and,
Sat., Aug. 13
10:00 am – 2:00 pm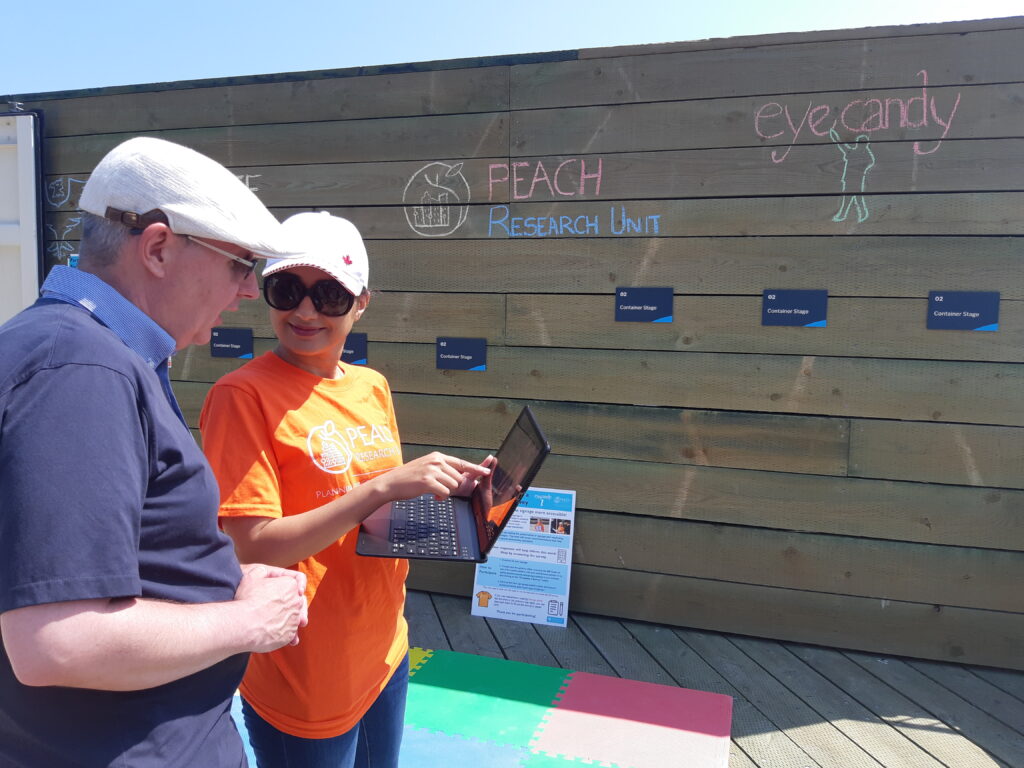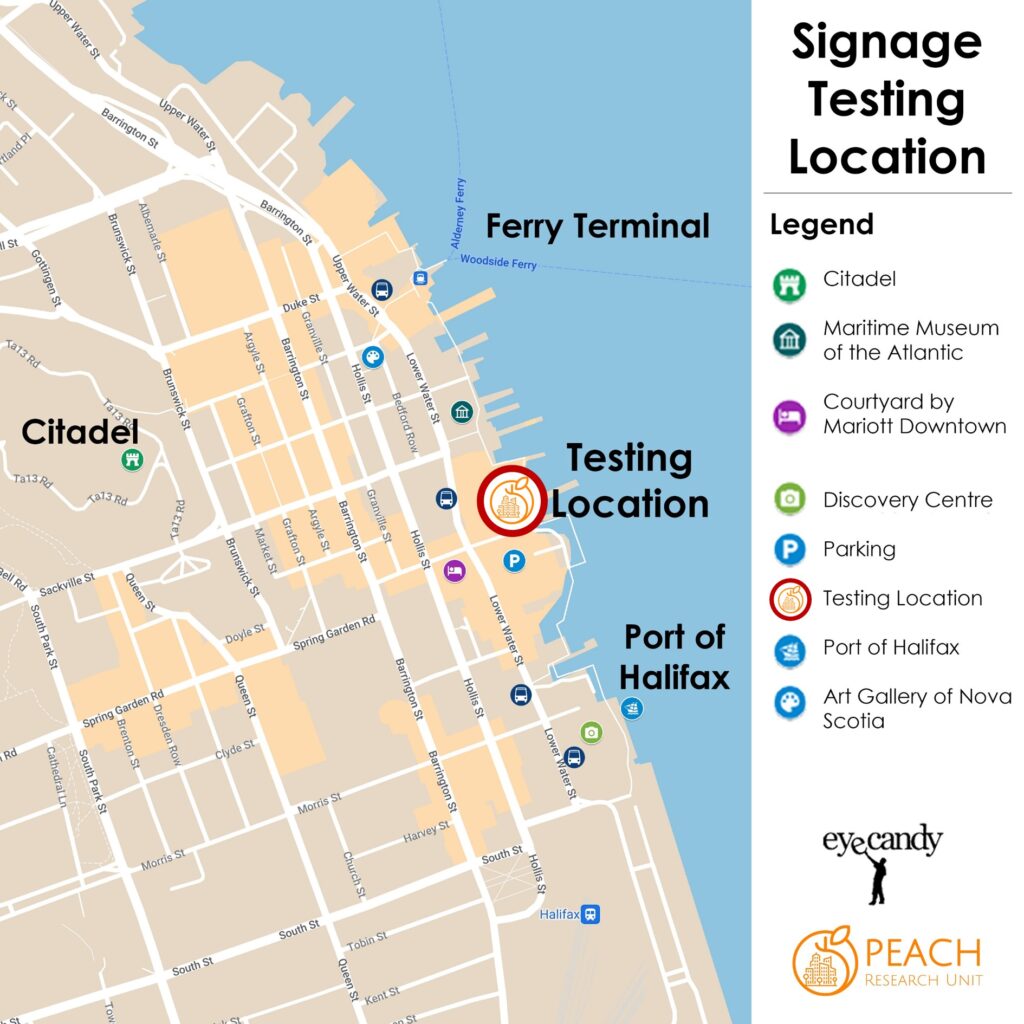 Other locations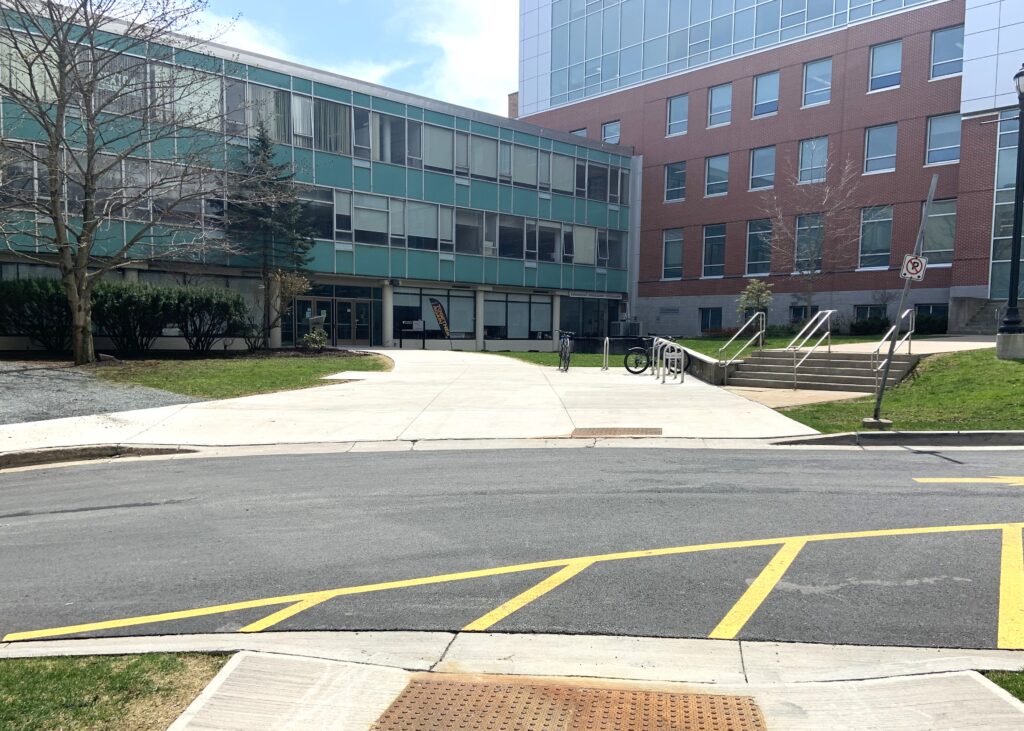 B-Building, Sexton Campus
Signage testing and surveys were conducted in the B-Building of Sexton Campus at 1360 Barrington St. in Downtown Halifax until July 9, 2022. Sexton Campus is located behind the Halifax Central Library. Accessible entrances to the B-Building are located off of DaCosta Row and Norma Eddy Lane. Norma Eddy Lane connects to Morris St. DaCosta Row connects to Barrington St.
Bus Routes to Sexton Campus: 90 (Morris St.); 7A/7B (South St.); 1, 5, 8, 9, 10 (Spring Garden Rd.)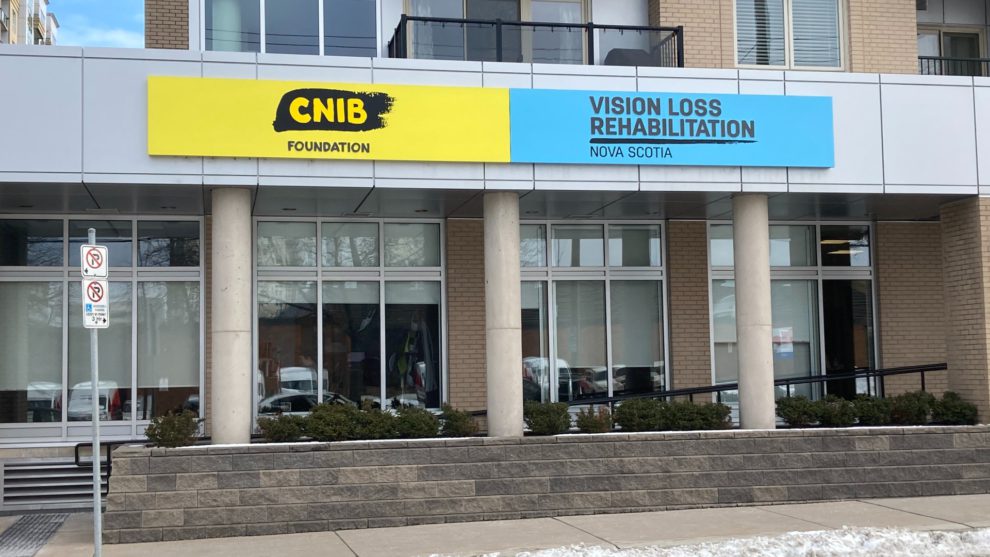 CNIB Foundation Offices, 6136 Almon St.
Sample signage testing and surveys are being temporarily located at the CNIB Offices, located on Almon St. in the North End of the Halifax Peninsula, until July 29.
Bus Routes to 6136 Almon St.: Buses 4 and 90 stop at Windsor Street before Almon Street
Survey Consent Form