PEACH on the Street: Access Alderney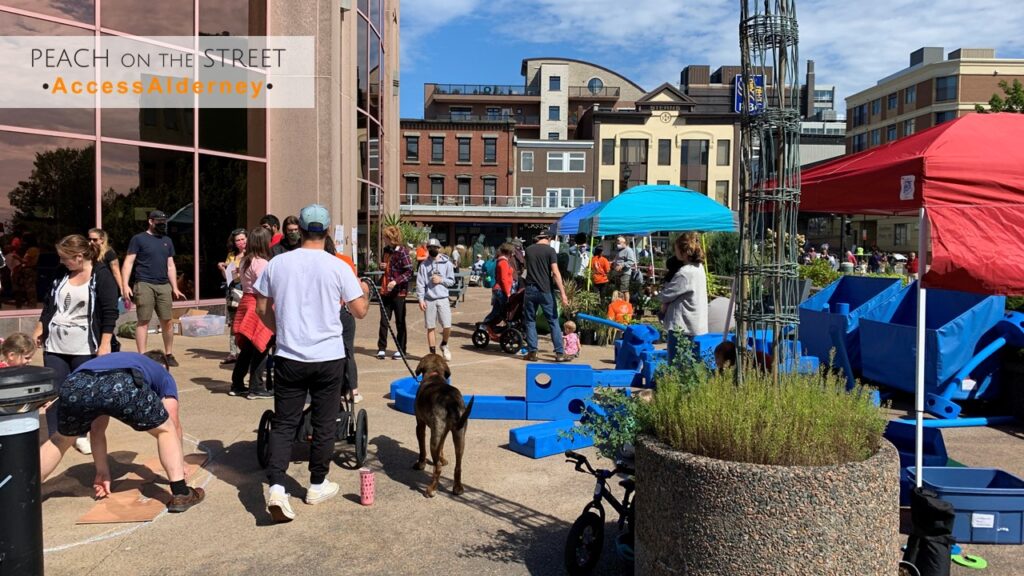 PEACH on the Street: Access Alderney showcased some public space designs using inclusive principles during Dartmouth's Open Street Sunday to make Alderney Plaza a more lively and accessible community space, in collaboration with the Alderney Placemaking Project conducted by the Downtown Dartmouth Business Commission, Halifax Public Libraries, and the Cities and Environment Unit.
Accessible environments enable participation for everyone – regardless of age, gender, physical stature, or ability. Accessible design includes anything that improves the ease of use for people who experience a range of physical, sensory, cognitive, and mental functioning. The Alderney Placemaking Project started out as a student project at the Dalhousie School of Planning, where a group of Masters students were tasked with reimagining the Alderney Plaza as an enhanced community space. Since then, the project has gained momentum as more community partners became involved to continue project activities.
The PEACH Research Unit is thrilled to have contributed to this ongoing project by demonstrating some temporary inclusive spaces for people of all ages and abilities during the 2021 Open Streets event. The 'PEACH on the Street' site at Open Street Sunday included a few select features of accessible spaces. For this event, we were only able to showcase a few features at a time and hope to conduct testing like this again with features that are important to persons with other types of abilities at future events. Thank you to everyone who gave us feedback on these features through our in-person and online survey.
The PEACH on the Street Survey
About the Survey
The PEACH team conducted an in-person survey on the Access Alderney site in five parts: Introduction, Quiet Tent, Space for Play, Seating, and Signage & Washrooms. Respondents were asked to visit the four spaces in Alderney Plaza where temporary design features were set up to demonstrate inclusive design principles. Participants answered a series of questions about their experience of each space and their opinions on specific inclusive design features.
Summary Report
Our team has released a summary report of the survey results. You may download a text version of the report in PDF format (right), or view and listen to a page-by-page video of the same report, hosted on YouTube (below). The audio of this video includes verbal descriptions of the visual elements of the report.