About CANdid Access

The Candid Access web map is an online platform to share photos and information about the accessibility of your community. It is one activity of our ongoing Tactical Urbanism project. Keep reading to learn more about Candid Access, or follow the link above to go straight to Candid Access to contribute your own photos or view the map of submissions.
The buttons at the bottom of this page can take you to web pages with support for using Candid Access with the Survey123 app, how your privacy is protected, a photo gallery of recent submissions, and more information on the Tactical Urbanism research you are contributing to through your participation.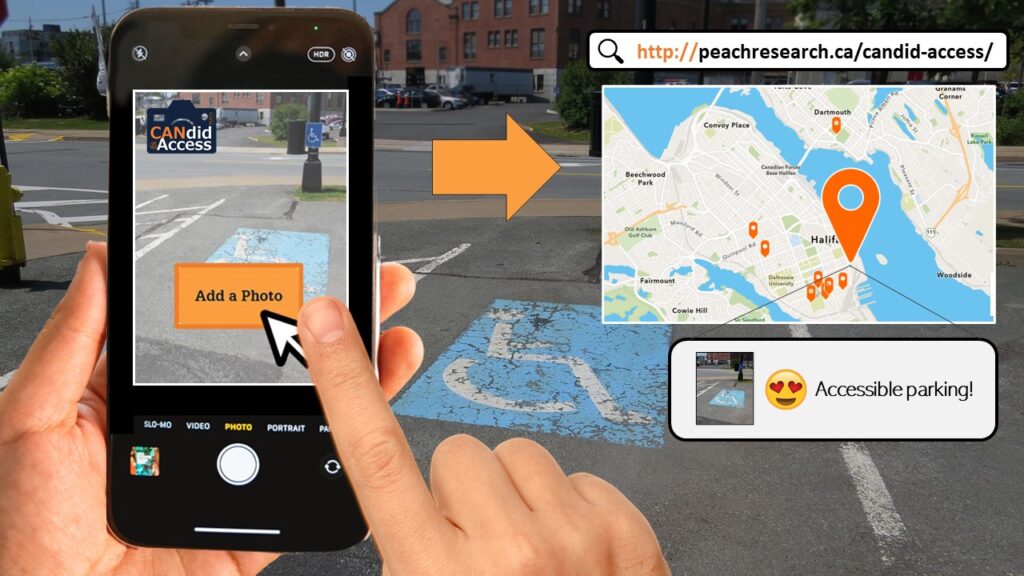 What is it about?
Everyone should have access to the parks, buildings, and public spaces that make up Nova Scotian communities. Persons with disabilities, older adults, children, and many others often experience barriers when trying to access these spaces due to their design, quality of materials, or other environmental factors. There are also exceptional examples of trails, beaches, streets, and libraries in Nova Scotia designed with accessibility in mind. Using Candid Access, we are asking you to share your knowledge of these accessible and inaccessible places to an online map for everyone to see and learn from.
How does it work?
When you visit the Candid Access web map you can scroll down the page to find the online map where residents and visitors to Nova Scotia have uploaded photos of the accessible and inaccessible spaces they encounter. You can add your own photos using the "Add a Photo" button on the website and answering a brief questionnaire about you and your photo. All answers to this questionnaire are made anonymously and are used to help us understand more about why it is a significant feature that hinders or enables access. Please take time to read more about our Terms and Conditions for using Candid Access.
More Resources