First-Person Narratives Lecture Series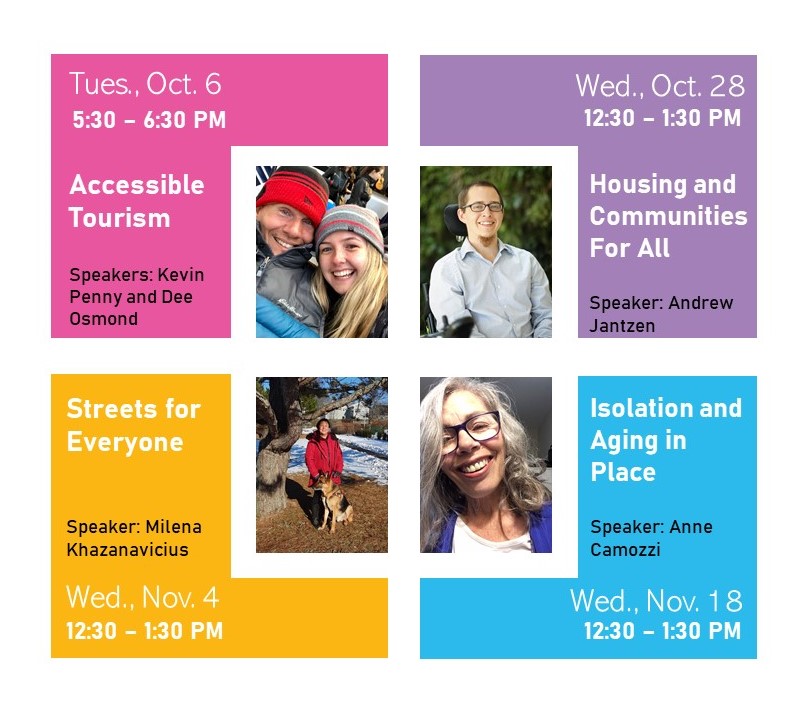 Since 2019, PEACH has been hosting presentations by accessibility experts and advocates as part of the the First-Person Narratives lecture series to inform our understanding of how built and social spaces can meet the diverse needs of all community members. The speakers in this series discuss their first-hand experience of barriers in the built environment and share their insights about various issues of disability. This lecture series is part of the A Tactical Urbanism project by exploring how to design more inclusive public spaces.
February 24, 2021
PEACH Research Unit was proud to host a special online presentation by two masters students from Dalhousie University's School of Planning. Katie and Hayley both performed participatory action research with groups of Nova Scotians who experience disability in the built environment. Their projects asked participants to share personal knowledge of the accessibility (and inaccessibility) of public spaces in their communities.
Through their online presentation, Katie and Hayley shared some key design features from streets and public spaces in Nova Scotia that older adults and persons with sight loss reported to be helpful or harmful to their safety and independence. They also present on their experience as early career researchers and reflect on the use of participatory research methods in the midst of COVID-19.
November 18, 2020
We were very pleased to welcome guest speaker Anne Camozzi to present on her experiences as a senior living alone with disabilities.
Anne Camozzi is an artist, author and grandmother from Antigonish, Nova Scotia. Her eclectic work history includes stints as a CBC reporter, university vice-president, and a long career as an award-winning consultant in environmental education, sustainability and strategic planning. Currently, while working on creative projects, Anne remains an active advocate for social justice issues, especially involving persons with disability and seniors. Disabled since a serious illness in 2004, Anne uses a wheelchair for mobility, has hearing loss and some vocal challenges. She has a BFA from York University, and a Masters in Adult Education from STFX. For more information, please go to https://www.annecamozzi.com
Building on her experiences with a husband with dementia in long term care and living alone as a disabled woman, Anne's presentation will examine isolation during the pandemic and in "normal" times. Anne demonstrates how current planning systems work against aging-in-place, and in fact, how far Canada lags other countries. She will present creative and simple solutions and discuss how planning approaches, at all levels of government and in the private and non-profit sectors, could enhance and enrich the lives of persons with disability and seniors, including, decreasing isolation.
November 4, 2020
We were pleased to have Milena Khazanavicius speak with us about her experience of barriers and opportunities in the built environment as a pedestrian with sight loss. Milena lost her sight over 26 years ago. She's been an advocate for accessibility for all pedestrians for over 20 of those years. She and her guide dog Louis travel everywhere around HRM and beyond and have firsthand knowledge of the barriers present in our sidewalks, street crossings, transit system, and more.
October 28, 2020
In his presentation, guest speaker Andrew Jantzen spoke to the ongoing crisis in accessible and affordable housing, the role of systems and policies in creating accessible communities, and the ways of moving towards accessible community design.
October 6, 2020
In their presentation, Kevin Penny and Dee Osmond shared some of their good and bad experiences as tourists with accessibility needs in cities and vacation spots around the world. Their stories offer insight as to how persons with disabilities can more equitably access all that tourism and recreation destinations have to offer.
January 22, 2020
Jen Powley is a quadriplegic due to progressive multiple sclerosis. She is a lifetime advocate, first for disability issues, then for sustainable development and now for the severely physically disabled with No More Warehousing. Powley is a certified Planner, graduating from Dalhousie in 2009. She is the author of Just Jen: Thriving Through Multiple Sclerosis.
One of the biggest challenges to planning for accessibility is trying to come up with solutions that work for everyone. Jen's lecture highlighted how some design solutions, meant to address the needs of persons with certain disabilities, can be in direct conflict with the needs of others. However, Jen's lecture was optimistic. She discussed how she herself is continuing to advocate for more accessible communities through a pilot project on housing for those with severe disabilities. She also encouraged students in the audience to continue to seek solutions to the challenges of designing for all.
Check out our blog post on Jen's lecture.
November 20, 2019
Frank O'Sullivan is the Executive Director of the Society for Deaf and Hard of Hearing Nova Scotians. After graduating with a Bachelor of Arts for the University of Toronto, Frank has worked with deaf, hearing, and hard of hearing people as an Employment and Career Counsellor, Seniors Program Coordinator, Developmental Services Worker and as an Adult Education and Literacy Instructor.
Frank shared some of the communication barriers experienced by deaf and hard of hearing persons in public spaces, and also introduced some of the ideas of Deaf Space design, as developed through Gallaudet University, to those who attended this lecture.