During the pandemic, many of us had our first taste of being denied a night out with friends or a quick bite at a local restaurant. But for many Canadians who experience physical, sensory, cognitive, and other impairments, not being able to enter a popular bar, coffee shop, or restaurant has long been a part of their dining experience. Something as simple as the door into a food establishment can be a significant barrier, denying people from not only enjoying these services but also from equitably participating in our communities.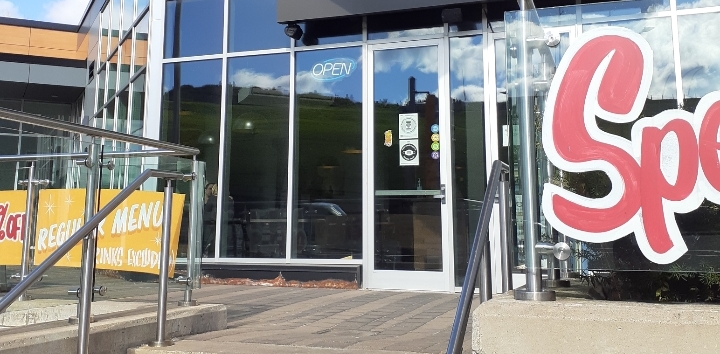 Since the enactment of the Accessibility Act in 2017, Nova Scotia has been tackling accessibility in public spaces head-on—slowly but surely. Both government and grass-root efforts to prevent and remove barriers in public spaces are emerging. Municipalities are developing their accessibility plans, disability advocacy organizations and community groups are raising public awareness, and accessibility standards are in the process of being developed. But the accessibility of privately owned spaces like food and drink establishments is lagging behind—a missing piece to realising equitable access to social life. Until these places become more accessible, the vision of a fully accessible Nova Scotia by 2030 will not be a reality. 
In the summer of 2021, when restaurants in Nova Scotia began to reopen, we introduced Cheers! To Access to engage with the restaurants of Halifax Regional Municipality on accessibility considerations. The initiative began when PEACH partnered with the creators of The Coast's Patio Map to document and share key accessibility information about the outdoor patios of HRM restaurants online, as reported by restaurant operators. Since then, the team has begun visiting restaurants and conversing with owners and managers on accessibility indoors.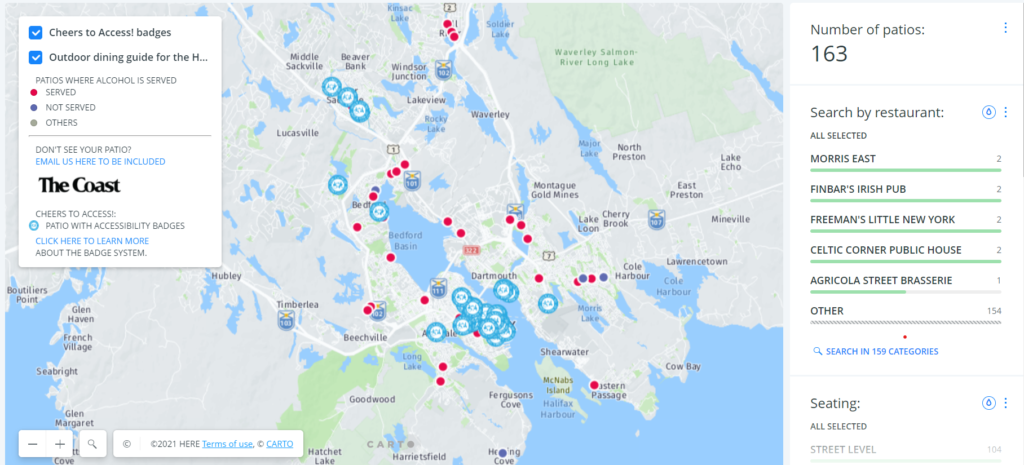 Cheers! To Access is a badge system that is displayed online and on storefronts via colourful window clings. PEACH members visit participating restaurants to check their eligibility for each badge. The idea is to celebrate accessibility successes in restaurants while talking about what more they could do.
Cheers! To Access badges for 2021 included a pilot set of accessibility criteria (Image of badges included) covering six basic considerations. For example, challenges experienced by persons with disabilities can begin at getting through the door of a restaurant, where a stepped entrance or narrow doorway may not accommodate persons using a wheelchair or another mobility device. Therefore, an orange badge is given to a restaurant with an entrance that is step-free, unobstructed, and at least 85 cm wide. Once inside, finding a wheelchair-accessible washroom (blue badge), a table of appropriate height for comfortable use with knee clearance (dark green badge), or enough clear space to move about the restaurant freely (light green badge), are important for persons using mobility devices, with service animals, or assisted by caregivers.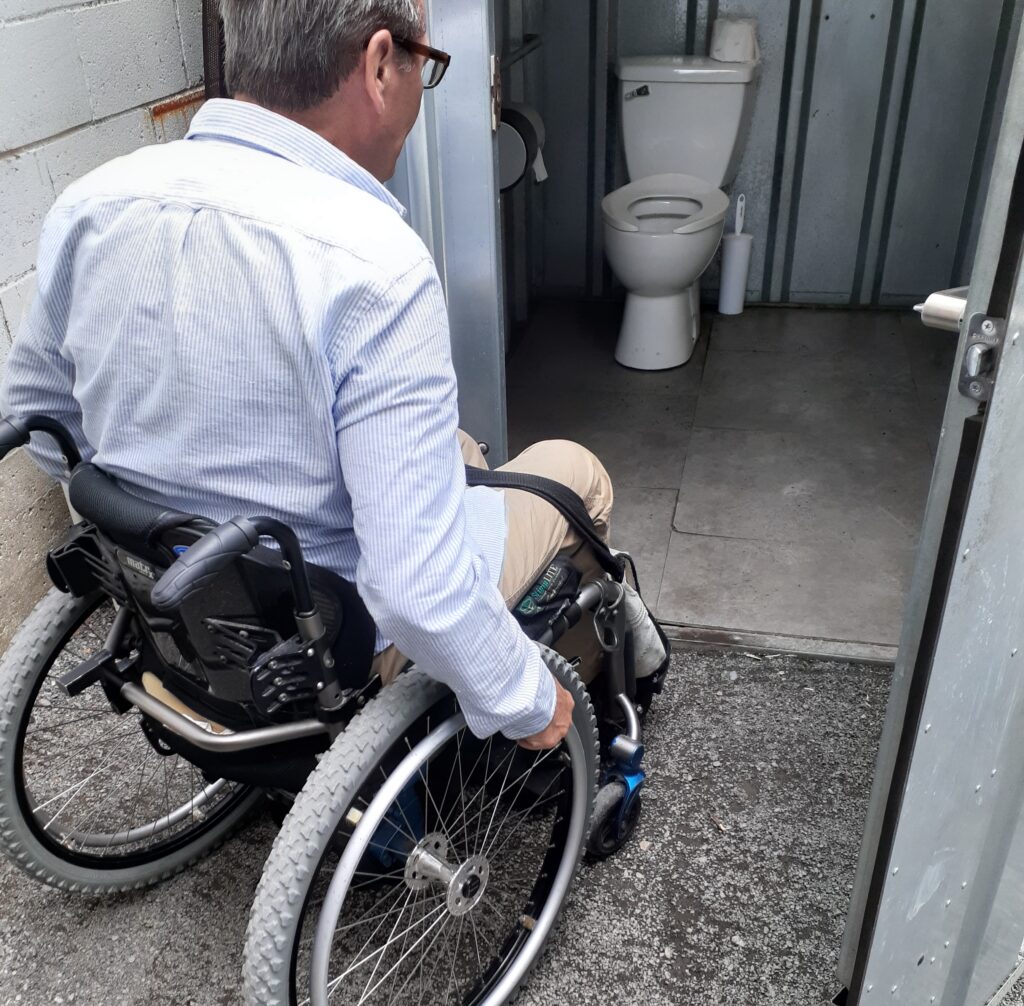 Participating restaurant owners have demonstrated a genuine eagerness to learn and improve their businesses to be more inclusive spaces. Even without making changes to its floorplan, there are many things that restaurants can do. Here are some examples:
Installing light fixtures with brightness levels that can be adjusted higher or lower for each table (or for different sections of your restaurant). This can help customers see their food or companions better, read the menu, or communicate nonverbally. Excess noise can be reduced by introducing soft surfaces and other sound-dampening materials, making the restaurant atmosphere less overwhelming for diners with a variety of sensory and cognitive conditions.
Offering menus in multiple formats, such as large print, digital, or braille, will be helpful for persons with low or no vision. However, JPEG or PNG files are generally not compatible with read-aloud software. Digital menus are better if uploaded as PDF files. And including pictures of menu items and using icons to communicate information about dishes is helpful for everyone.
Savvy restaurants are now using pay machines with automated voices to relay audible instructions. Sometimes customers have to use pay machines with physical buttons, and buttons with tactile numbering or lettering or both are very helpful. Silicone overlays may be available as add-ons to adapt touchscreen products and could make all the difference for a customer with limited dexterity or visual impairment.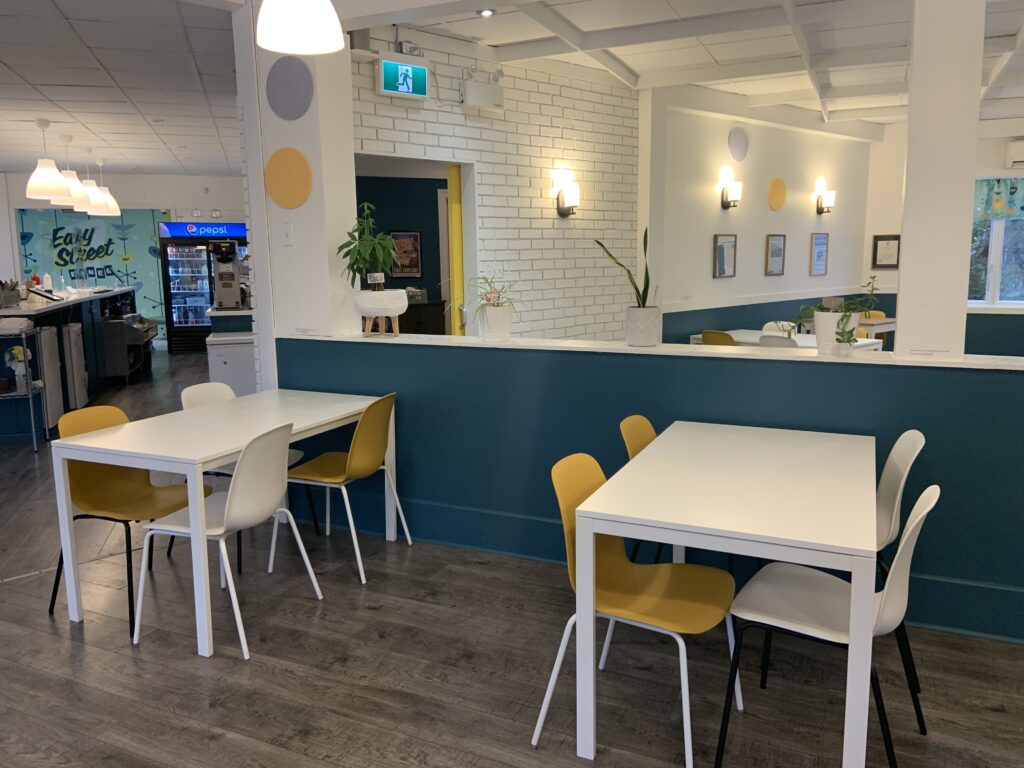 Cheers! To Access is merely a first step to cataloguing the accessibility efforts in the food and drink establishments of HRM and having open conversation about how to make restaurants more inclusive venues for everyone.   
A recent video collaboration between PEACH and Planifax on this initiative interviewed three accessibility experts and advocates in Halifax Regional Municipality, Nova Scotia, about basic elements and considerations to enhance accessibility of food establishments for all. You can watch the video below:
If you're a restaurant owner and would like to receive Cheers! To Access badges, join us with Cheers! To Access 2022. Email PEACH at [email protected]. You are also invited to email PEACH if you are a diner who experiences disability and would like to see a particular barrier addressed through the Cheers! To Access system. Keep an eye out for these badges in the windows of your favourite local food joints and spread the word using #cheerstoaccess.
Acknowledgement: PEACH Research Unit would like to thank Michelle Mahoney, RHFAC Professional, for her valuable input into the criteria for the first set of Cheers! To Access badges.